The new WiFi technology was approved in 2019. It focuses among others on a more effective use of the radio spectrum. The connection quality was improved, the quantity of supported devices, the energy efficiency and the bit rate were increased (to 9.6 Gbps), were enhanced. WiFi Alliance, a worldwide organisation dealing with WiFi development and certification modelled on 3GPP (issuing standards of the mobile networks: 3G-UMTS, 4G-LTE, 5G), introduced a simplified marketing name, WiFi 6, for the IEEE 802.11ax standard. Works on a new version of the 802.11be standard to be named WiFi 7 are already in progress.
If problems with WiFi availability or transfer happen at your company, consider implementation of WiFi 6. Meanwhile, you should become familiar with the changes introduced in relation to the previous generations:
OFDMA modulation
OFDMA is an extension to OFDM (WiFi 5). OFDMA – Orthogonal frequency-division multiple access. It enables access points to communicate simultaneously with end devices by dividing each radio channel into sub-channels (RU – resource units) and allocates them as needed. An RU can be used for different services and devices, it is not allocated in whole to a single recipient (OFDM). The more effective use of resources results in a higher bit rate and in a lower latency. Small 2 MHz RUs are used effectively by IoT devices and contribute positively to a reduction of channel noise.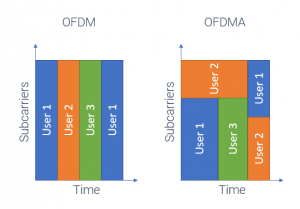 The radio channel width in relation to the previous generation has not changed and is still possible for: 20 MHz, 40 MHz, 80 MHz and 160 MHz. The wider the channel, the more RUs and the higher the bit rate. For example, in the HT80 channel (80 MHz) for a single transmission the quantity of RUs increases from 234 (WiFi 5) to 980 (WiFi 6), while the bit rate from 433 Mbps (WiFi 5) to 600 Mbps (WiFi 6).
1024-QAM encoding
1024-QAM – Quadrature amplitude modulation. The amplitude and phase of the sinusoidal signal are modulated. Namely, two sinusoidal orthogonal signals, shifted in phase by 90 degrees. Compared to WiFi 5, which employs 256-QAM (encodes 8 bits per symbol, 28=256), WiFi 6 encodes more information in one symbol (210=1024). Thanks to this change bit rate grew by 25%. A comparison of diagrams of constellations of both modulations is presented below.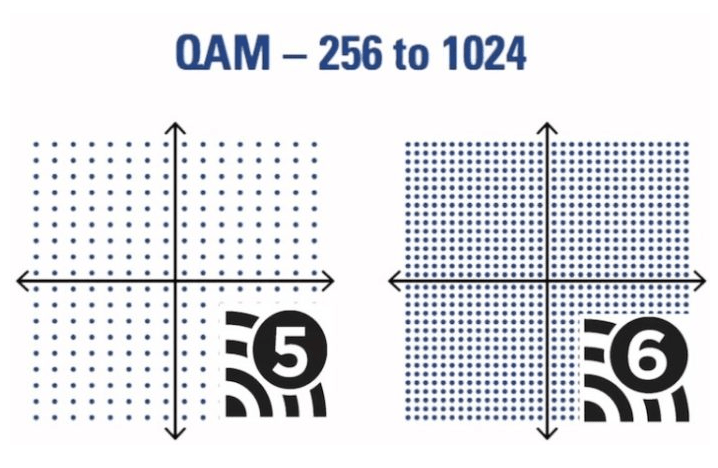 Such a densification of symbols involves also a limited hardware capability of detecting signals correctly, which is why the new technology requires hardware replacement. Each dot in the diagram means an encoded symbol that is transmitted between devices. The method of symbol encoding is presented in Fig. 3, diagram of 16-QAM constellation.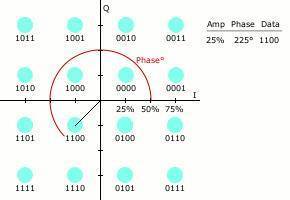 16-QAMMU-MIMO
Multi User – Multiple Input Multiple Output, which means a simultaneous multi-way transmission executed thanks to an increased quantity of transmitters and receivers. MU-MIMO is already used in WiFi 5, but only for the downlink transmission, i.e. from an AP to the user. In WiFi 6, also the uplink direction was added. In addition, the quantity of MIMO streams, so-called Spatial Streams (SS), was increased from 4 (WiFi 5) to 8 (WiFi 6).

BSS Coloring
Basic Service Set Coloring is an important interference reduction mechanism in the latest generation WiFi, which allows coding of the AP and the used channels with colours. The colour code is sent in frames in the form of an index from 1 to 63. Colours identify frames from BSS, which should not collide with each other. The recipient should identify interfering signals occurring in the same channel and stop receiving them at an early stage, thanks to which wasting of the receiver's resources is avoided. In this model, channels with the same colour code should be far from each other.

New frequency: 6 GHz / WiFi 6E
Many countries worldwide, including European Union member states (and consequently Poland), have adopted the frequency range around 6 GHz. To be precise, the range of 5925–6425 MHz as a non-licenced band for the purposes of WiFi 6E. The following graphic reflects the advantages of this step: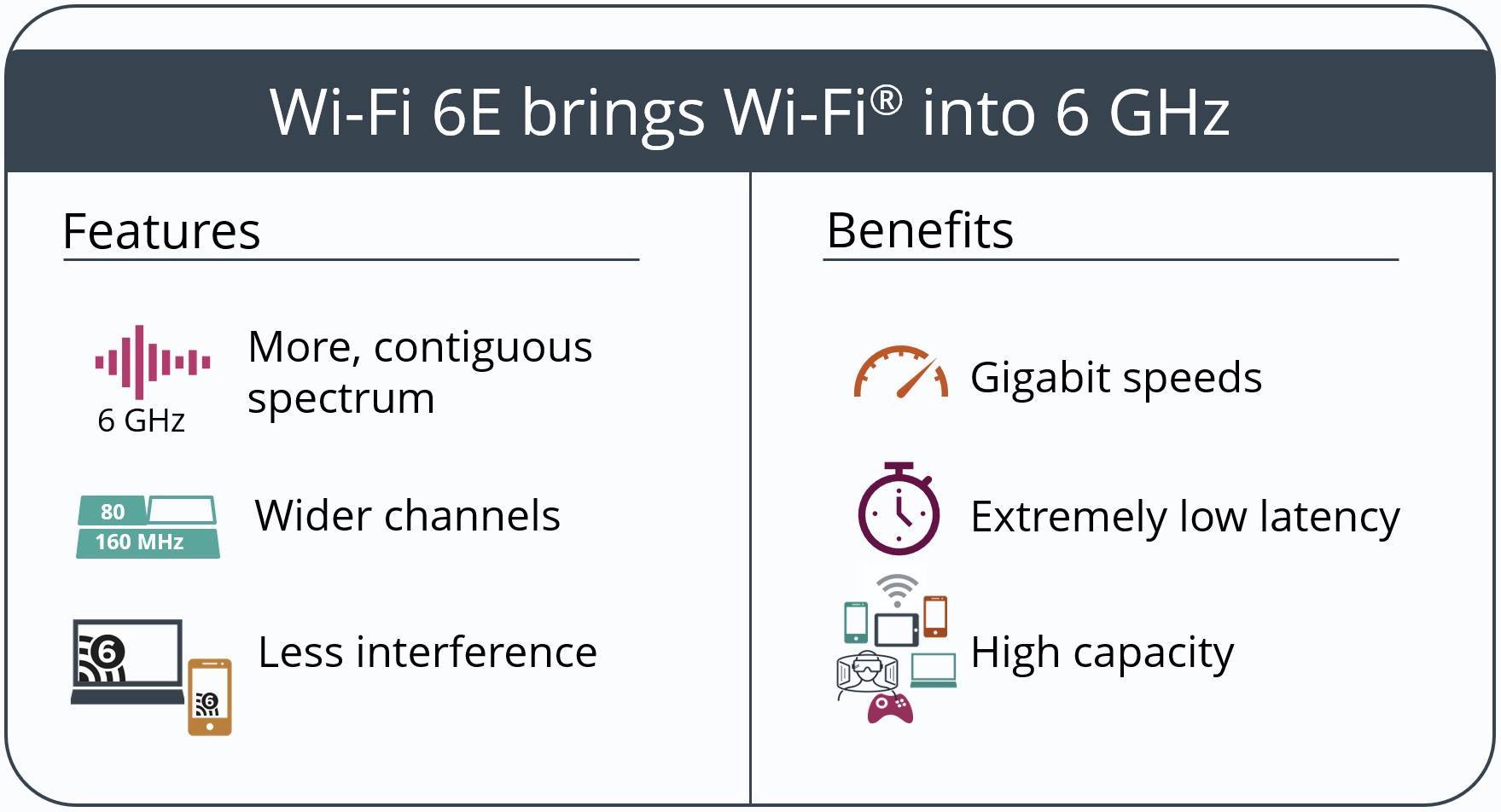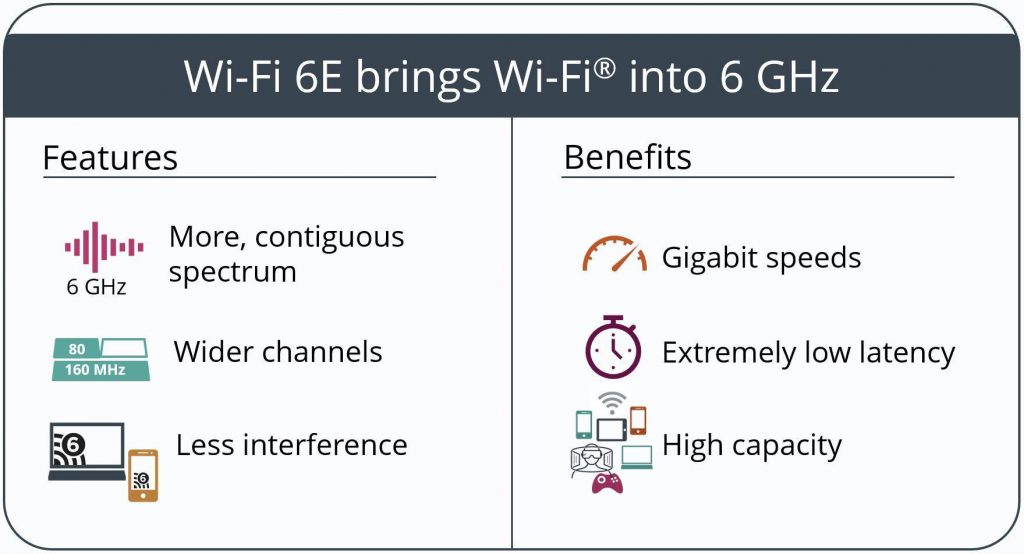 RWiFi 6E
So far, two frequencies have been used in WiFi standards: in the range of around 2.4 and 5 GHz, which will still be used in the WiFi 6 standard. Properties of a radio channel change in line with the increase in the frequency. The application of the frequency of 6 GHz for the WiFi 6 expansion is reasonable. The higher the frequency, the higher the bit rate. The expense is the higher vulnerability to interference (scattering on obstacles) and the higher suppression (lower range).
TWT – Target Wake Time
The TWT mechanism allows saving batteries of mobile and IoT devices. Thanks to that an AP can put devices to sleep for a specific period. For the purpose of effective band sharing, it can do this individually and in groups. With the use of this function, an AP negotiates the time of access to the transmission medium or activity periods. This allows avoidance of congestion and interference.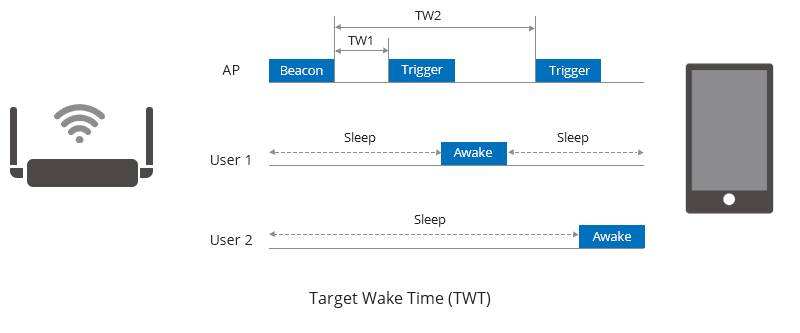 The new WiFi 6 technology will prove excellent in crowded places, such as airports, railway stations, stadiums, companies, as well as houses where the majority of devices use the Internet. The latest 802.11ax – WiFi 6 standard is backward compatible with the older technologies, on which it is based and which it makes more efficient.
Support Online is an IT company which has been offering highest quality IT services to its customers for more than 20 years. Our services are dedicated to all companies from Poland and abroad (references).
You are welcome to become familiar with our offer, which includes solutions that may prove interesting to you, among others:
– helpdesk
– IT audit
If you are looking for end-to-end IT services, do not hesitate to contact us.
Sources
WiFi Alliance (www.wi-fi.org)
support.huawei.com
www.tp-link.com
Piotr Gawin
Administrator Sieci w Support Online